Choklits Kindergarten Program 2021, open letter
Dear Parents and Carers,
As yearend is fast approaching its time to start considering your choices for kindergarten education in 2021. Ordinarily we would invite you to our live event here at Choklits so you could speak with our educators and learn more about our program, but as we all know (almost) everything looks a little different in 2020!
One thing that hasn't changed, however, is our commitment to deliver a high-quality program that will help ensure our children are ready to start school in 2022.
To simplify, you have two basic options, enrol in an outside sessional kindergarten program or stay within the familiar surrounds of the Choklits Community and be part of our very own kindergarten program which is now partly funded by the government.
You will obviously need to do your own investigative research if you are considering an alternative to Choklits. That should include visiting different kindergartens, speaking with teachers and ensuring the facilities are suitable. Most importantly, you should look for an environment your child feels safe and comfortable.
As we cannot be together, the kindergarten educators and I have our best technology foot forward and recorded the presentation in audio format. Please have a listen, we'd love to hear any feedback you have-
The Choklits kindergarten program has adapted and continued to evolve over the past 12 months. In addition to all our regular incursions including sports activities, music lessons, second language programs and the library excursions, we now have the ability to move in and out of a remote based learning environment if required.
We've included answers to many of the questions we've already received regarding the program below. Please feel free to reach out to the kindergarten team with any of further questions.
We are looking forward to an exciting 2021,
Jade and the Choklits Team
The Choklits kindergarten program…
In our large, purpose-built room at Choklits, we offer two programs for our children. A pre-kindergarten class also known as 3 year old kindergarten and a 4 year old funded kindergarten class. Our team collaborates together to share the space at different parts of the day. Typically, the pre-kinders and kinders separate during the morning and come together in the afternoon.
We believe the value and benefits of collaborative learning are key in setting your children up for transition to school. The environment is a more holistic and child-responsive curriculum practice that considers the understandings, capabilities and dispositions that children need for the future.
We have found that because of the mixed age group, the younger children benefit from the positive models of older children, often aspiring to their levels of capability. At the same time, the older children rise to the expectations of the younger children and teachers, are more responsible and enjoy having opportunities to lend and use their expertise. 
The advantage of working together with children for more than one year enhances continuity of learning and the forming of positive relationships between educators, children and their families. 
Co-learning is the way of the future which , as we are learning, will include the need for lots of resilience and adaptability. We realize we cannot predict the jobs they will have, but what we can predict is the skills and dispositions needed to have lifelong success.
The Basics
At Choklits we are fortunate to have Kindergarten Teachers who hold a Bachelor of Education and are approved with the Victorian Institute of Teaching.
Choklits kindergarten program operates 5 days a week from 8:30am to 4:30pm. The hours before and after the program will be dedicated to additional education and play in line with the Early Learning Centre environment.
Our kindergarten program is developed from the National Early Years Learning Framework and The Victorian Early Years Learning and Development Framework.
The Choklits Kindergarten Program for 2021
Promotes children's development across the Early Years Learning and Development Framework
Is planned for and run by qualified kindergarten teachers.
Provides families with progress reports about their child and opportunities for formal family/teacher interviews twice a year.
Provides a yearly calendar of events including special days and educational visits.
Supports a kindergarten to primary school transition program including the preparation of a transition statement for each child in collaboration with the parents. We also facilitate visits to their school of choice during the year.
Prepares each child to be a confident learner for the next phase of their life – Primary School.
Benefits
Attending Kindergarten at Choklits offers many benefits for both children and parents.
Children who are already attending the centre stay in familiar surroundings and with friends they have known for some time
Children have the benefit of being part of a small group
Parents can take advantage of the extra hours that long day care offers, enabling them to work or attend to other responsibilities, confident their child is receiving the kindergarten curriculum and being cared for
Running a full program five days a week offers even greater flexibility and support for families
Although not a requirement at Choklits, we love and encourage as much family participation as our families need
Please feel free to contact us and talk to the educators in the Kindergarten room at any time. We are happy to talk to you and discuss the program and answer any questions.
The Choklits Pre-Kindergarten Program Includes
A focus on group activities including how to be a part of the group, building confidence in communicating in a group, and sharing ideas.
Dramatic play which children in this age group are typically passionate about so we provide the children with lots of opportunity to explore, whether it be animals, families or super heroes.
Weekly excursions to the library at the Salvation Army for additional literacy education, beginning in term 4
Loose part play where the children learn how to use a range of thinking and problem solving skills to use and utilise the materials provided in innovative ways.
Structured routine times such as group learning times, meal times, and rest time, plus
All the incursions the 4 year old kindergarten program includes, listed below.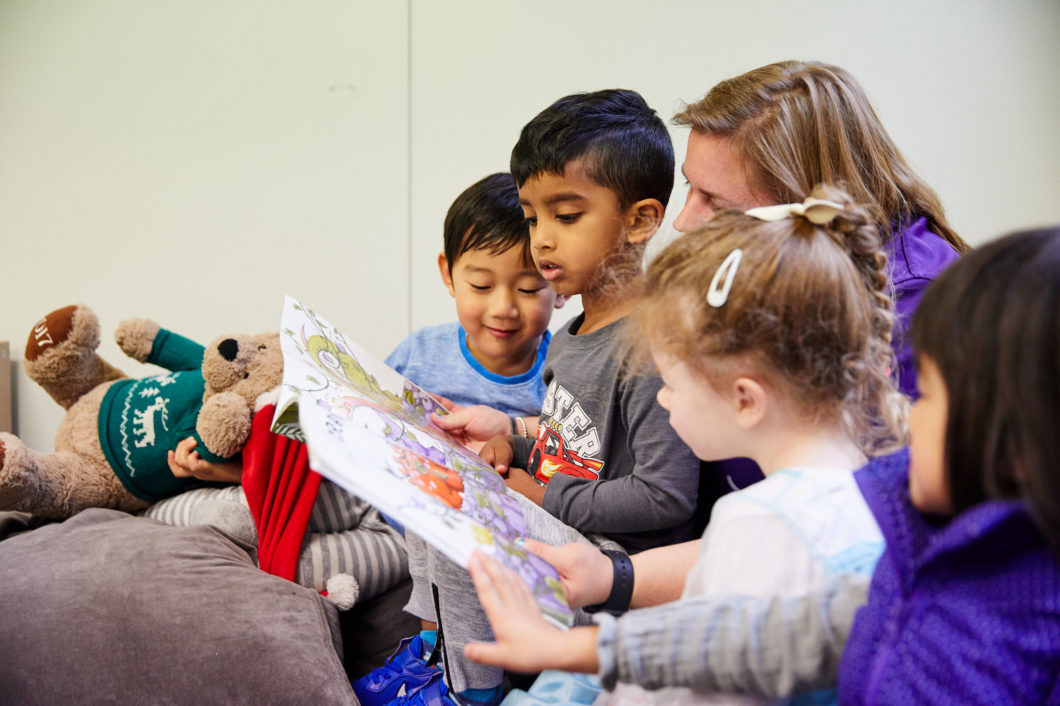 The Choklits Kindergarten Program Includes
Early Learning Languages Australia (ELLA) second language program, we are currently learning Chinese
Extension of our music program which runs throughout the term including school holidays
Sports program where the session is tailored to be age appropriate and run separately from the younger Choklits children
Weekly excursions to the library at the Salvation Army for additional literacy education
A monthly excursion to Estia Health Aged Care Home
A weekly yoga session, plus
Many other events and visits throughout the year including drama and wild animal incursions, Road Safety Awareness, Water Safety Education, free dentist and hearing check-up, pet awareness activities, indigenous education incursions and spontaneous excursions.
Meet the Choklits Kindergarten Team
We are very proud of our all our Educators and the fantastic work they do for all our early learners here at Choklits. To meet our entire team click here. Some of our staff even have video messages waiting for you!
The Choklits Kindergarten Program in review
We love documenting and reflecting on our Kindergarten program, the lessons we learn and the education and experiences we provide. We have produced many videos and written many blogs on our program activity. To review what a day in the life of our kindergarten program may look like for your child, please click here for videos and here for blogs.
If you are considering sending your child to our excellent four-year-old kindergarten program in 2021 please complete form below before the 1st of November 2020, we will do our best to accommodate your preferences. We will confirm all places in November and provide you with the Victorian government funding letter and information for you to complete.